Air Duct Cleaning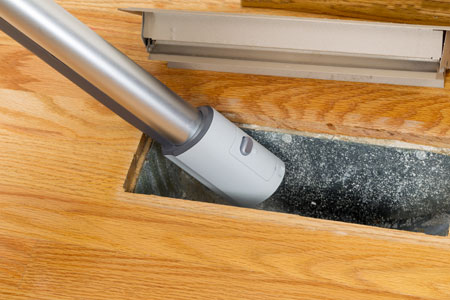 Lehman's Carpet proudly offers air duct cleaning. Air duct cleaning is available for both commercial and residential properties, and for air ducts/vents of various types. We also offer dryer vent cleaning to remove laundry lint that may be clogging your dryer's ventilation system. Estimates will need to be given based on the number of vents and property size. Please call or email us for an estimate.
WHY SHOULD I HAVE MY AIR DUCTS CLEANED?
Air duct cleaning helps to improve the quality of the air in your home. Air duct cleaning reduces allergens, dust, dirt, and pollen within your home. It also improves the energy efficiency of your home by allowing air to freely flow through your system due to reduced build up of dust and debris. It also reduces the risk of dryer fire by removing laundry lint build up.
HOW DO YOU CLEAN MY AIR DUCTS?
Air duct cleaning is done by one of our professional cleaning technicians using our steam mounted truck system. We have special tools we attach to go up or down into your vents, snaking through and "tickling" the dust and dirt free to be sucked up and filtered out of your home into our truck system. No drilling or damage is done to your air vents like some air duct cleaning companies do to get them clean. We simply remove vents and go into your system this way.
MediClean is a disinfectant we use to kill mold, viruses, odors, and germs. This can be applied in your air duct system using our equipment, which essentially fogs your ducts. Visit our Facebook page to watch a video on how this is done.
WILL AIR DUCT CLEANING HELP ALLERGIES?
If you notice a lot of dust or have trouble breathing within your home, air duct cleaning may ease these problems. The National Air Duct Cleaning Association recently reported 40 pounds of dust, dirt, and allergens are collected in a six-room house on average per year. In 1 ounce of dust, approximately 38,000 dust mites can live. This should tell you enough. Air duct cleaning can potentially reduce allergens in your home or office.
WHEN SHOULD I HAVE MY AIR DUCTS CLEANED?
We recommend air duct cleaning to be performed every 5 years for those not suffering from allergies nor conducting home renovations. If you do experience trouble with allergens or have recently completed home renovations, especially those in which drywall and insulation are used, air duct cleaning is recommended. After your vents/ducts have been cleaned, you will need to run your system then turn off and change your air filter. You will then have clean ducts, vents, filters, and in return, cleaner air.
DRYER VENT CLEANING
Lehman's Carpet is proud to offer dryer vent cleaning to help remove lint build up in your dryer and dryer vent. Dryer vent cleanings are recommended to be done once a year to help reduce the risk of fire caused by dryer related occurrences.